Metallic Nanometer Copper and Nickel Composite Powder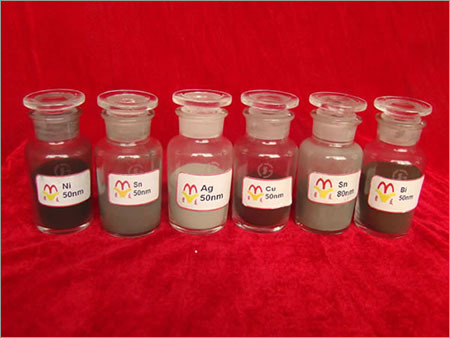 Metallic Nanometer Copper and Nickel Composite Powder
Our company provides highly uniform and pure Metallic Nanometer Copper and Nickel Composite Powder in highly controllable particle size as well as composition. This is available in deep blue black color in spherical shape. It comes with uniform and even particle size distribution having the bulk density of 0.8g/cm3. It is provided with 1-100% purity with superior disperse ability and minute sintering contractility. The product is available in a high-grade plastic bag having anti-static liner.
This product is widely used as the raw material to develop bulk copper-nickel nanocomposite by using the methods of powder metallurgy sintering and inert gas shielding. This works as the lubricant additive. Self-repairing as well as self-lubricating films are formed on the friction pairs' surface by adding this powder into the grease or lubricating oil. It ensures to provide a reduction as well as compensation of damage of the friction pairs. It comes with small friction factor and minimum repairing time if it is compared to single metal nano lubricant additive. In addition to this, it also reduces the adding amount from three to five times.
XRD (50nm grain size)
XRF (50nm grain size with composition Cu60% and Ni40%)
| | | |
| --- | --- | --- |
| Element | Wt.% | Std. Err. |
| Cu | 59.91 | 0.25 |
| Ni | 39.38 | 0.24 |
| S | 0.040 | 0.0021 |
| Al | 0.037 | 0.0027 |
| Mn | 0.0088 | 0.0008 |
| Pb | 0.0048 | 0.0016 |
We are an expert nanometer copper and nickel composite powder manufacturer, based in China. We provide a complete range of nano zinc powder, stainless steel reactor, lab jet mill, Reactor Using Mechanical Seal, etc.